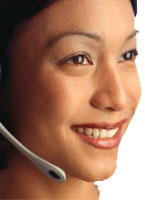 Lifeline reform by the FCC now requires that all Lifeline applicants provide a Signed Lifeline Certification as well as Proof of Eligibility.
Proceed with ordering service by calling our Sales Department at:
1-866-202-3357
Signed Lifeline Certification
You are required to fill out and sign a Lifeline certification form. It will be provided as part of the on-line ordering process when you click "Order On-Line" If you order over the phone, you will need to return here after you order and click the "Lifeline Forms" tab at the top of this website to submit a form.
Proof of Eligibility
You can qualify for Lifeline service if you are enrolled in a government assistance program (like medicaid, food stamps, etc. see qualifications here), or based on your household income. You must provide proof that you are in that qualifying program or proof of your income.
Your proof can be a screen capture of your on-line EBT account (find our how at the bottom of this page), a copy or picture of an acceptable document / card (SNAP card, Medicaid Card, etc) or a pdf file, etc. You only need to provide one form of proof. You will not be prompted to provide the proof document during the on-line ordering process. However, you'll need to provide the proof before we activate your service. See the table below for methods you can use to get the proof to us.
Connection Fee Payment
There is a $29.99 connection fee for this service - EXCEPT for a SPECIAL PROMOTION in Alabama, Arizona, Florida, Georgia, Indiana, Louisiana, and North Carolina where you can connect for $17.99! - (AT&T Service area) and it must be paid before your service is activated. You will be prompted at the end of the on-line ordering process for payment using a credit/debit card. If you don't have a credit or debit card, there are other methods of payment available. You can send a money order or use a moneygram. However, if you choose to make your payment with one of these methods rather than a credit or debit card, you'll need to our sales hotline at 1-866-202-2767 to place your order rather than use the online process.