Order Home Phone Service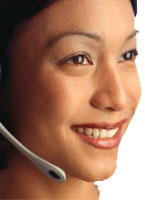 On-line ordering is not available for your state at this time. To order service or to find out more about it, please call, toll free, during business hours at 1-866-202-2767.

Due to recent FCC reform of the Lifeline program, there are new requirements for all applicants. Each applicant is required to submit a Signed Lifeline Certification form and provide Proof of Eligibility before they can receive Lifeline benefits.
Proceed with ordering by calling our Sales Department at:
1-866-202-2767
1. Signed Lifeline Certification
You are required to submit to us a signed Lifeline certification form. You can download and print the form here. If you prefer, a form can be mailed to you once you have placed your order.
2. Proof of Eligibility
You can qualify for Lifeline service by already being enrolled in a government assistance program (like medicaid, food stamps, etc. see requirements here), or based on your household income. You must provide proof that you are in that qualifying program or proof of your income.
Your proof can be a high resolution picture of an acceptable document / card or a pdf file, etc. Only one form of proof is needed. Once you've placed your order for service, you'll need to provide the proof before we can activate your service. See the section below for methods to get the proof to us.