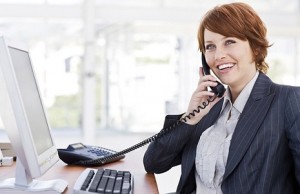 Recent decades have seen some impressive advances in phone technology for businesses. Landline telephones haven't completely gone away, even though businesses have also started using cell phones, smartphones and digital voice technologies to stay in touch with customers and colleagues. While, many of them choose to utilize a combination of telephones, more and more companies still prefer to communicate using landline phones due to their higher reliability.
For companies with an office or store and with more than one employee, relying solely on the mobile phone technology can be risky. In this case, a landline phone system is the most advisable option. Many successful companies advise employees and other organizations not to switch from an office-based phone to a cellphone exclusively. Although companies continually look for options that help businesses reduce costs in all areas of operation, they can leave the cost-cutting part for other areas of lesser importance. Communication is something they should not risk for anything in return. While companies focus on cutting costs, using a mobile phone can cost more in the end because it can be frustrating to customers who can't hear you clearly on the phone. Somehow, the entire idea does not serve the purpose of a growing business because it seems to convey to the client to the client that a company cares more about saving money than delivering good service. It may also send the message that a company perhaps does not have the money for an office with a land-based phone.
Landline phones may be the most old-fashioned, but they still have their importance intact and are still the favorite of many businesses. Landlines can offer a level of reliability and voice quality that is not always achieved by using cell phones. Some businesses may be located in areas that don't have good cell reception or broadband access. Companies nowadays are becoming more and more aware of the valuable benefits landline phones have over cellphones and are becoming inclined to keep the familiar landline technology around.