Despite of the best efforts to regulate and legislate the robocalls, still consumers complain about the unwanted prerecorded and auto-dialed robocalls. Now, this is not just one man's problem- thousands of people have come together to curb this practice. Today, a petition signed by hundreds of thousands of people who want the nation's telecom providers to do something about robocalls to the AT&T headquarters in Texas.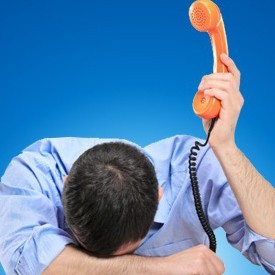 Though there are tools that allow the individuals to put up robocall roadblocks on their own, but the telecom industry hasn't taken any strict action to put a halt on such calls. The providers who offer options to block specific numbers generally charge a specific amount for the service or put limits on this sort of blacklisting. For example, AT&T allows their landline customers to pay a certain amount to block up to ten numbers and all anonymous callers. Likewise, Verizon also charges a specific price to block either six or twelve numbers or more. Generally, it depends on your service area.
However, the critics argue that- "this sort of customer-generated blacklist puts the onus on the consumer, and that such small blacklists are often pointless when dealing with scammy robocallers who use spoofed phone numbers and bogus Caller ID information to mask where they are really calling from."
Consumers Union and concerned Dallas-area consumers delivered that petition to AT&T headquarters. "We're calling on companies to step in and act and provide companies with free and effective tools to block these tools before they get to their homes," explained Consumers Union End Robocalls campaign leader Tim Marvin.
In a statement to Consumerist, AT&T acknowledges that this is a problem that needs to be dealt with. "Robocalls are an industry-wide issue and we continue to work closely with the government and industry partners to make improvements," reads the statement. "We appreciate Consumers Union's input and will continue our work to help find solutions."
Moreover,CU has already delivered this petition to Verizon and CenturyLink.
Seeing the current scenario where more than 800 robocalls are being made every second in US, the consumers hope that industry understands the problem and will look into the matter seriously.