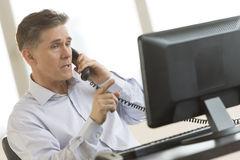 It doesn't matter how quick and efficient the technology, cell phones seem to still lag behind in delivering certain aspects that are critical to business communication. A primary reason for this is that businesses largely rely on landline usage so as to establish user identification, offer clearer communication and guarantee a sustainable life on the device that does not need repetitive battery charging.
A landline communication may be slower if compared to the speed and quickness of its new-age media counterparts, such as email, messaging, and social media. However, it has certain unique benefits that cannot be overlooked. The benefits drawn from using landlines easily surpass the few limitations it has. In the impersonal world we live in, landline phones that help establish urgent business connections with a prospective client or partner through voice, are still very important business resources.
Talking with someone via the telephone is indeed not as efficient as talking with someone face-to-face. For situations where a distinct face-to-face meeting cannot be conducted, a phone call is the most befitting way to obtain an immediate, direct response. With various other forms of communication, for example, texting or email, you typically leave a message and hope for a quick response. Often, such messages tend to get delayed due to various reasons and can turn into a stressful situation if a business problem needs to be addressed immediately.
The teleconferencing feature that is offered by landline telephones nowadays is a provision that has surpassed the barriers of traditional two-way communication on a telephone. It draws people closer from across the organization and hailing from different geographical locales at minimal cost. Such features have tremendously helped save crucial time and resources of organizations. When used along with the feature of video conferencing, such calls bring the essence of a personal meeting to the communication when presentations are viewed, questions are turned via the Internet and answers are shared among a number of people attending the call.
While many useful features suggest that landlines preferably be used more extensively in organizations and offices, the above mentioned are some of the benefits that stand above cell phones.