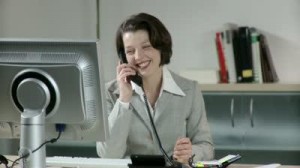 There might have been a drop in the frequency of use of landline phones for business communication because of the advent of computers as well as the internet. However, landline telephones still rank higher when rated on clarity of communication from a business related viewpoint. No matter how fast and effective the technology, cellphones still cannot match the communication satisfaction granted by old fashioned telephones. A major reason for this is that business set ups essentially depend upon landline usage in order to establish user identification, provide for a clearer communication and ensure a long lasting use on the device that does not need battery charging.
Telephone communication may be slower, and not as speedy and quick as its new-age media counterparts, such as email, instant messaging, and social media. Nevertheless, the benefits drawn from using landlines easily exceeds the few limitations it has. In the impersonal world we live in, the landline telephone that connects a caller with a human through voice, is still a very important business resource. Here are some reasons why it is so:
Effective and Clear Communication
Conversing with someone via the telephone is nearly as good as talking with someone face-to-face. For situations where a face-to-face meeting is not feasible, a phone call is the best way to get an immediate, personal response. As with other forms of communication, such as texting or email, you leave a message and hope for a quick response. In many cases, responses do get delayed for some reason and can become a source of stress if the business requirement demands a quicker revert or action.
Better Message Transmission
The three most vital elements of effective communications include body language that accounts for 55%, tone of voice that accounts for 38% and spoken words that represent 7%. The tone of voice has such importance because it provides dimension and emotion to words. Over the telephone, it further increases the effectiveness of the communication as body language cannot be assessed in that case. Yet, certain aspects of body language, such as smiling and walking while talking, tend to come across in a telephonic conversation.
Economical for Multiple Participants in Call
The teleconferencing feature that is offered by landline telephones nowadays is a provision that has surpassed the barriers of the traditional two-way communication on a telephone. It brings people together from all over the organization and from different geographical locations at a very minimal cost. Such features have immensely helped save time and resources of organizations. Conference calls, when used along with video conferencing bring the essence of a personal meeting to the communication as presentations are viewed, questions are asked via the Internet and answers are discussed among a number of people attending the call.
Although many a great features compel that landlines be used in organizations and offices, the three benefits mentioned above are features that cannot be matched by cellphones.